let-off studios is proud to present SCAVENGERS. What a long, strange trip it's been.
A game that started out with a single deck of cards that I drew with Sharpie markers, featuring crossing guards competing to help schoolchildren cross the street… Now a full-fledged sci-fi bidding game with company contracts, tokens for positive and negative effects, set collection, and more iterations than I care to count. It's been a lot of joyous work.
SCAVENGERS is a space-age bidding game, where players are pilots hired to collect space scrap from a far-out explosion. The player who collects the most space scrap, rescues the most aliens, and gathers the most alien technology will most likely win… Victory depends on how wisely a pilot spends their ship energy.
When a new space sector is visited, the pilot with the highest unique number bid from their hand of cards is the winner. Each pilot has the same cards to start with, and you must beware of ties – these allow pilots who have spent less energy sneak in and snatch up all the space scrap! If you can't edge out your opponents, you'll end up losing a matchup and the valuable sector card goes to your rival.
Who's the quickest, cleverest pilot out there? Hope it's you!
Have feedback? Please let us know by contacting the designer, Stephen B. Thomas.
SCAVENGERS is currently seeking a publisher. If you're a publisher and think it will be as successful as we do, then let's talk! 🙂
FIGURE 1: Here's an example of Space Sectors from an early-development build of Scavengers.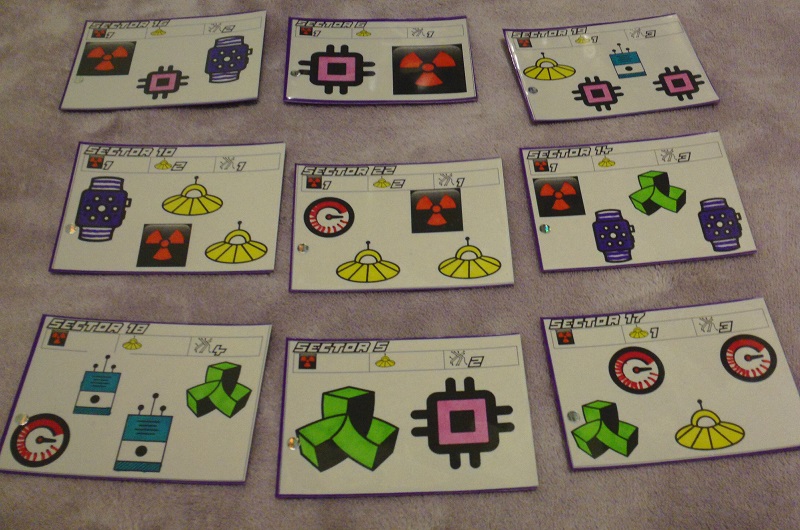 More pix an downloads coming soon.